What is Paint Protection Film?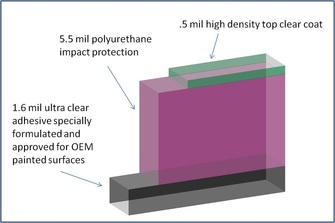 Paint Protection Film (PPF)
is an ultra clear urethane film that is applied directly to the surface of your vehicle. The film is virtually invisible yet protects your painted surfaces from bug guts, rock chips, acid rain, and other hazards.
In their January 2004 issue, Motor Trend Magazine described PPF (also known as a 'clear bra') like this:
"Clear Bra is a nearly invisible, "always-on" alternative to bulky and often problematic vinyl front-end protectors. You have to be close to the vehicle, and look hard, to spot this stuff. As with vinyl bras, it offers protection from stone chips, insects, small scratches, and the wear-and-tear sand-blasting effect from years of driving.

Instead of having to remove and reinstall a bra after every foul-weather encounter (which can trap dirt and moisture underneath), paint-protection film is semi-permanently installed, similarly to window tint. It has a lifespan of about seven years and requires no special maintenance. Should the need arise, or when the film wears out, it can be replaced. And you can wax it along with the rest of your car, minimizing bug and sap stains and easing stain removal."
Frequently Asked Questions:
What does it cost?Basically you'll be facing two costs, the film cost and the labor cost. The more film you need, the higher the cost. You can view the film prices here.

Paint Defender offers discounts for vinyl bra buy back, military/veterans, auto club membership, and more.

Labor costs vary by the kits you request and the difficulty of the installation. You can do the installation yourself...BUT....professional installation is STRONGLY recommended.

How long will the film last?If you take care of your film, it will probably last as long as your car does. Our PPF is warrantied against manufacturer defects for yellowing, cracking, pealing, de-laminating, etc for 10 years. The warranties are nationwide.

Paint Defender will back your installation for the lifetime that you own the vehicle.How do I care for it?

Wash and wax your car as you normally do - but at least once a month. Use waxes that are recommended for paint protection film. Don't use waxes that contain dyes, abrasives, or that is not recommended for urethane or petroleum products.

Can it be removed?

Yes..but why? Professional removal is recommend. If you need to pull the film yourself, peal back a corner and pull up at a 45 degree angle. You may want to warm the film with heat gun or hair drier. Apply counter-pressure on the surface you're pulling the film from.

There may be some residual dirt or adhesive left behind. Use a general adhesive remover approved for automotive paint finishes.

What happens when it is scratched?

Our films from SunTek and XPEL are self healing. In other words, they will repair minor surface scratches on their own. You can help that by pouring warm water over them or warming them with a heat gun or hair dryer.

See a demonstration of XPEL's self healing film here.

Otherwise, check with your installer - that should be Paint Defender by the way!!

My film has a stain on it, what do I do?

Most stains will fade away on their own. The more time in the sun, the faster the fade will happen. Stubborn stains may take longer or need help. Use denatured alcohol or an alcohol wipe for immediate results.

Will the film damage my paint?

No. PPF are are approved by all Original Equipment Manufactures (OEM). In fact, your vehicle may come from the factory with PPF already installed in some areas.

PPF is ultraviolet clear. That means it allows the paint under the film to fade at the same rate as the rest of your car. So, if you ever remove your film years from now, the paint will be the same color.

CAUTION: If your vehicle has had aftermarket painting done, attempting to remove the film could cause damage to the painted surface IF the body shop did NOT apply the new paint to OEM specifications.
Paint Protection Films
SunTek Ultra - Our standard install
| | |
| --- | --- |
| This is our standard film. SunTek produces an excellent top coated film with superior clarity. This has an innovative, low surface energy top coat that increases stain resistance and longevity by limiting water and dirt accumulation. It is self healing - using the heat of the sun or a heat gun to remove scratches. It comes in a high gloss or matte finish. | |
XPEL Ultimate - Our ultimate install
The worlds first self-healing (and still the industry leading) film.

X

PEL's Ultimate Paint Protection Film combines best-in-class durability and clarity not previously available in the market. With its very low surface energy, XPEL ULTIMATE sheds contaminants that would otherwise stain or yellow conventional films. In addition, the clear coat employs special elastomeric polymers that "heal" over time eliminating swirl marks and other fine scratches without having to do anything.

This product carries a 10 year warranty against, yellowing, cracking, peeling, staining, and hazing, covering both film and labor. XPEL ULTIMATE is truly the most revolutionary Paint Protection Film ever invented!